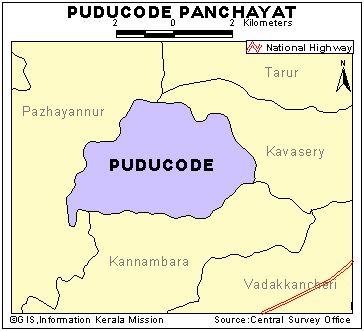 Route Map to reach Puthucode form Palakkad K.S.R.T.C Stand
K.S.R.T.C. STAND (PALAKKAD)
Head towards BEM School take right and pass BIG Bazar(1 K.M.) on your left side.
Continue on English Church Road at KOTTAMAITHANAM take slightly right (Manpully kavu road) and reach the NATIONAL HIGHWAY 47(2 K.M.)
Take right at National Highway 47 keep go and reach ROYAL JUNCTION VADAKKENCHERY (35 K.M).
VADAKKENCHERY
From ROYAL JUNCTION VADAKKENCHERY take right and continue on Vadakkenchery-Plazhy Road.
From PULINKOOTTAM(4 K.M.) junction take left and take the second right to reach KANNAMBRA JUNCTION(2 K.M)
From KANNAMBRA JUNCTION keep straight and move towards Plazhy to reach KANNAMBRA THOTTUPALAM(1 K.M)(left side you can see a bridge like structure on the paddy field- irrigation canal)
From KANNAMBRA THOTTUPALAM(take right and move 0.5 K.M to reach ANCHUMURI, PUTHUCODE
Just about to reach Anjumuri, on the left side you can see the East village gate of the ANNAPOORNESWARI TEMPLE